The best modernist architecture ballet I've ever seen. (Update: the embed doesn't work with this video for some reason, but here's another clip, taken from the earlier frantic naked man portion of the performance:)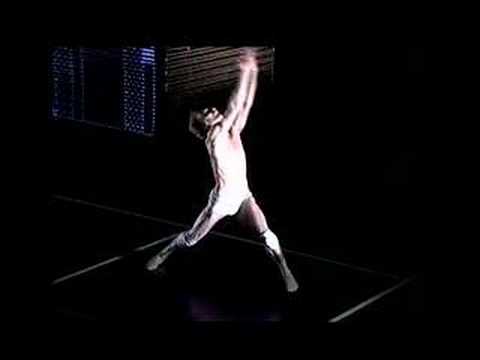 Clearly, the Bauhaus transparency fetish is being parodied by the set designers cliche use of aligned screens to create a tenuous sense of enclosure. The couple's initial mutual obsession is soon disrupted by their architectural environment — its perfect inorganic grid embodies the modernist ideal as enforced by a CAD operator ands lacks the flaws and deviations of humanity. Thus, our couple is consistently marginalized, able to subsist only as peripheral props in a set that dwarfs them. But, Alas (!), affinity deals structural determinism a cruel blow when the couple conquers their space, dethroning architecture, and securing a place for human existence in the cold, functional world.
Clearly.
Are these things supposed to have a narrative?